Cape Malay Beef & Fruit Curry
A fragrant, spicy curry that is packed full of dried fruit and is slow cooked for meltingly tender beef. This curry benefits from being made the day before you need to serve it, and any leftovers can be made into delicious curry puffs or rissoles the next day. We've used Afrikoz spices SOUTH blend here.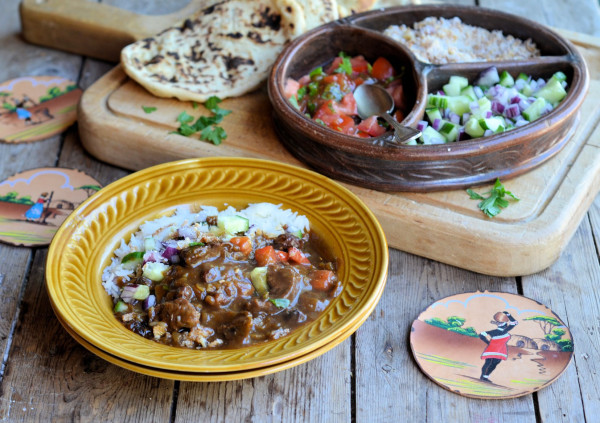 Prep time:
Cook time:
Total time:
Ingredients
1 tablespoon vegetable oil
500g stewing steak, cut into even-sized chunks
4 large onions, peeled and sliced
1 tablespoon plain flour
100g sultanas
100g dried apricots
50g desiccated coconut
Salt and pepper
3 tsp Afrikoz Spices SOUTH blend
Instructions
Heat the vegetable oil over a medium to high heat, then add the stewing steak piece by piece, sear each piece, turning it over to brown evenly – take the beef out as it browns and allow it to drain on some kitchen towel. Do NOT overcrowd the pan.
Place the seared beef in a large oven-proof casserole dish. Add some more oil of needed and then cook the onions over a low heat, until they are just soft and opaque.
Add the onions to the beef and then add the Afrikoz Spice SOUTH mix to the pan, and heat it up before adding a tablespoon of flour. Mix well and gradually add 300ml water, stirring all the time to make sure it is lump free. Pour it over the beef and onions.
Add the sultanas, apricots and desiccated coconut to the beef mixture and mix well.
Add some salt and pepper and place the lid on the casserole dish.
Cook in a pre-heated oven 150C/300F/Gas Mark 2 for 2 to 2 ½ hours, or until the curry sauce has thickened and the beef is tender.
Serve with steamed rice and assorted sambals, such as chopped tomato, chopped onion, chopped cucumber, chutney, peanuts, desiccated coconut and naan breads.
Notes
This can be cooked in a slow cooker too – cook on auto for up to 8 hours or on high for 6 hours. (Times vary according to different slow cooker models)
Adapted from Karen Burns-Booth's food blog at http://www.lavenderandlovage.com