Chopped Chicken Burgers with Berbere & Goats Cheese
Imagine the best Southern barbecue. Cooked up in northern Africa. Use Afrikoz Spices EAST blend of berbere in this recipe. This technique for using chopped (rather than ground) chicken keeps the burgers moist and flavorful. The prosciutto mixed into it helps, too. Be warned that when you form the patties, they will be very moist and messy. But once they hit the grill, they will hold together without trouble. If you'd rather used ground turkey for convenience, this same seasoning blend will be delicious in that, too.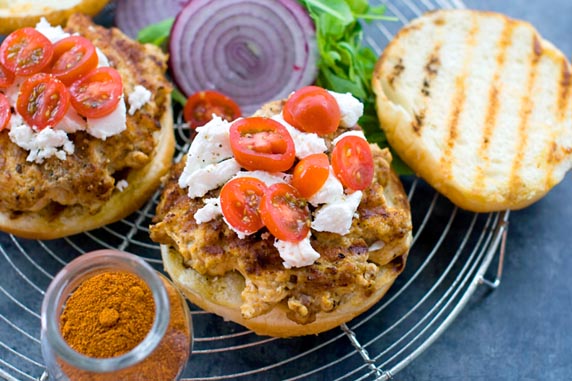 Prep time:
Cook time:
Total time:
Ingredients
1 large egg
½ teaspoon garlic powder
2 teaspoons Afrikoz Spices EAST blend
½ teaspoon ground black pepper
Pinch salt
1kg pounds boneless, skinless chicken breasts, cut into large chunks
4 slices prosciutto
4 hamburger buns
200g log chevre (soft goat cheese)
Instructions
Heat a barbeque grill to medium. Oil the grates, or coat them with cooking spray.
In a large bowl, whisk together the egg, garlic powder, Afrikoz Spices East blend, black pepper and salt. Set aside.
In a food processor, combine the chicken and prosciutto. Pulse until the meat is well chopped but still chunky, about 10 seconds total. Scrape the sides of the bowl and pulse again if any large pieces remain unchopped.
Transfer the meat to the bowl with the egg mixture, then mix well. Form the meat into 4 loose patties. They will be moist and not hold together well.
Use a spatula to carefully place the burgers on the grill and cook, covered, for 4 to 5 minutes. Flip the burgers — they should be firm enough to move easily now — and cook for another 4 to 5 minutes, or until a thermometer reads 165 degrees at the center of the burgers.
Top each burger with a quarter of the cheese, then serve on a bun.