Fish Babotie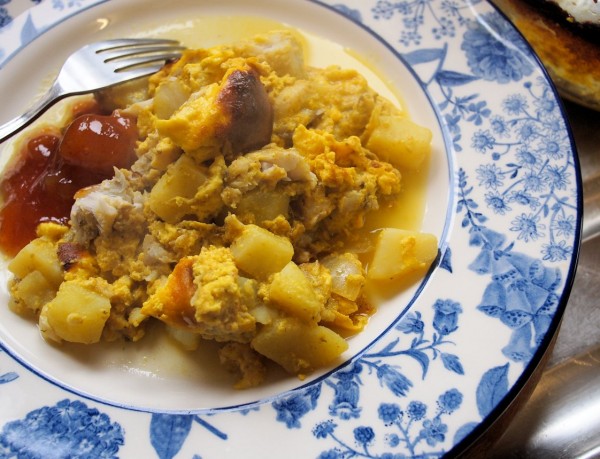 3 x 175g fillets of hake (similarly cod or coley), cut into large chunks
2 potatoes, peeled and cubed
1 carrot, sliced
1 onion, sliced
1 garlic clove, sliced
3 free-range eggs, beaten
2 tbsp rapeseed oil
3 tbsp white wine vinegar
100ml double or whipping cream
3 tsp Afrikoz Spices EAST blend
1 tbsp chopped fresh parsley
1 bay leaf
1 tbspn chutney
Salt and freshly ground pepper
Preheat the oven to 180C / 350F.
Cook the potatoes in a pot of boiling water for 4 minutes, then drop in the carrot slices for a further minute. Drain and set aside.
Heat the oil in a frying pan and fry the onion and garlic for 4-5 minutes, or until softened.
Add the potato, carrot and chunks of fish to the pan.
Add the chutney and bay leaf to the pan.
Pour over the vinegar, then spoon the mixture into a baking dish.
Beat the eggs, cream and Afrikoz spices EST blend together in a bowl.
Add the parsley and season with salt and freshly ground black pepper.
Spoon the egg mixture over the fish mixture, and bake for 15-20 minutes or until just set.
Adapted from Karen Burns-Booth at lavenderandlovage.com's recipe taken from Fish Is The Dish.