Fish Babotie
This is the fabulous fishy adaptation of a classic meat Bobotie, a recipe which is featured on the Fish is the Dish website that is made with hake... although we have used coley as the stronger flavours work very well with the spices in this dish. The recipe is a little different from a classic Bobotie recipe in other ways too. There is no bread added, almonds and dried fruit; however, the flavours are very similar once cooked. This recipe is AMAZING though, and a wonderful way to cook fish for a family supper. We used Afrikoz Spices EAST blend for this meal.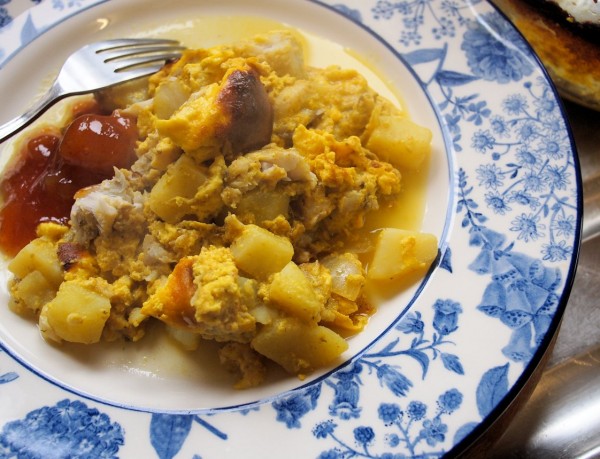 Prep time:
Cook time:
Total time:
Ingredients
3 x 175g fillets of hake (similarly cod or coley), cut into large chunks
2 potatoes, peeled and cubed
1 carrot, sliced
1 onion, sliced
1 garlic clove, sliced
3 free-range eggs, beaten
2 tbsp rapeseed oil
3 tbsp white wine vinegar
100ml double or whipping cream
3 tsp Afrikoz Spices EAST blend
1 tbsp chopped fresh parsley
1 bay leaf
1 tbspn chutney
Salt and freshly ground pepper
Instructions
Preheat the oven to 180C / 350F.
Cook the potatoes in a pot of boiling water for 4 minutes, then drop in the carrot slices for a further minute. Drain and set aside.
Heat the oil in a frying pan and fry the onion and garlic for 4-5 minutes, or until softened.
Add the potato, carrot and chunks of fish to the pan.
Add the chutney and bay leaf to the pan.
Pour over the vinegar, then spoon the mixture into a baking dish.
Beat the eggs, cream and Afrikoz spices EST blend together in a bowl.
Add the parsley and season with salt and freshly ground black pepper.
Spoon the egg mixture over the fish mixture, and bake for 15-20 minutes or until just set.
Notes
Adapted from Karen Burns-Booth at lavenderandlovage.com's recipe taken from Fish Is The Dish.